Emergency Plumbers in Alabaster, AL
Have a plumbing problem? Call The Plumbers LLC! We've been helping home and business owners throughout Alabaster, Calera, Roberta, Chilton County, and Shelby County, AL since 2011, providing residential and commercial plumbing services for a wide range of situations, including repairs and replacements, new water heater installations, gas leak repair and other services and much more. We're certified Master Plumbers and Master Gasfitters, making us the smart, safe choice for all your installation and servicing needs!
Total Plumbing and Gas Experts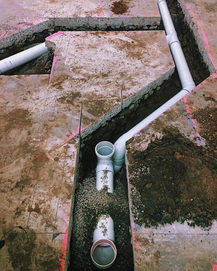 Issues with your plumbing can cause big problems, fast! A little leak, a backed-up drain, a toilet that won't stop running—these simple issues and many more like them require an expert plumber in Alabaster, AL or they could get worse, costing you more money and leaving you with bigger headaches. At The Plumbers LLC, we've seen it happen before and we're here to stop it from happening to you.
Our expert plumbers are backed by decades of hands-on experience. We've dealt with all types of plumbing problems throughout the years and we take pride in solving your unique issues quickly and thoroughly. Turn to us when it comes to repairs, installation and inspections, whether for your home, business or new construction project. We're even on-call as an emergency plumber in Alabaster, AL. Regardless of when you call us or what situation you're in, we arrive quickly, ready to set things right. With fully-stocked trucks and seasoned experts on the job, your plumbing issues don't stand a chance!
We've been in business since 2001 and have a team of experts that's backed by more than 20 years of hands-on plumbing experience.
Our vehicles are fully-stocked with all of the essentials, including common replacement parts and repair equipment. This allows us to provide prompt, reliable service!
Our business is fully licensed and insured. We have a master plumber and master gas fitter on-staff to ensure you're getting top-notch service at all times!
We offer water heater conversions and specialize in servicing Rheem and Rinnai water heaters.
We're available for emergency plumbing services outside of normal business hours. You can always call on us for rapid, reliable repairs.
Unlike other emergency plumbers, our skills aren't confined to the bathroom or the kitchen—they span the whole home! Give us a call for water heater service, sewer line inspections, outdoor fireplace gas line installation, sprinkler tap inspections and more. Plus, we'll perform all of the usual services—including drain cleaning, clog removal, fixture installation, leak detection and more. Give us a call the next time you need a plumber and we promise you'll be glad you did!
Need Prompt Emergency Plumbers?
No matter what the issue is with your plumbing or when it starts to show itself, call on us with confidence. The Plumbers LLC is on the way, ready to solve any plumbing problem!
Proudly Serving the Following Areas and Others for Over 20 Years:
Alabaster, AL
Birmingham, AL
Cahaba Heights, AL
Chelsea, AL
Columbiana, AL
Helena, AL
Homewood, AL
Hoover, AL
Jefferson County, AL
Leeds, AL
McCalla, AL
Montevallo, AL
Mountain Brook, AL
Oak Mountain, AL
Pelham, AL
Shelby, AL
Shelby County AL
Trussville, AL
Vestavia, AL